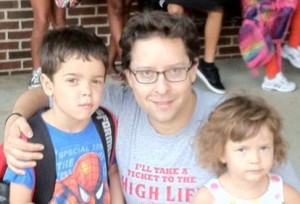 I am Arturo Nava I am the Author and Founder of "Logra Tu Dream" and the Marketing Director of Nuestro Queso a Hispanic focused dairy company in the Midwest. Most recently I was the Founder and Managing Partner of Marketealo (Spanglish for "market it") a firm that helps companies navigate and win in the Latin influenced market.
I was born and raised in Mexico City and came to the US in the late nineties to follow my American dream of a better life and to start a family. My ticket to my new life in the US came via my acceptance to the MBA program at Harvard, I couldn't believe my fortune when I was accepted and when I won a scholarship that made it possible for me to attend.  I decided to stay in America because I realized anything is possible in this country.
After my MBA I started off my US adventure as an entrepreneur, my first venture itradefood.com didn't work out. Then I went to work for the big brands for 13 years in various brand marketing and innovation leadership roles growing top brands at companies such as Procter & Gamble, Molson Coors/MillerCoors, and Google-Motorola. I took the entrepreneurial plunge for the second time a little more than a year ago to start Marketealo .
My biggest blessings are my two precious kids, my loving girlfriend, my close nit family, my good friends and my good health. "La buena vida" (the good life) for me is one filled with freedom, family, entrepreneurial passion, Latin inspiration, great Mexican food, and fun/memorable moments.
After living for more than 18 years in the US I have been deeply inspired by the stories, the struggles and triumphs of many Latinos and their children that are pursuing their dreams of a better life for their families in the US.  I saw that many times standing in the way of their dreams was a lack of  access to inspiration, mentorship, business advice and tools from successful Latino and Latin inspired role models.
I have realized that my mission is to do my part in helping other Latinos achieve their dreams of securing a better future for their families and growing their entrepreneurial businesses. This is why I decided to start the "Logra Tu dream" podcast in which successful Latino and Latin inspired entrepreneurs and leaders share their journey to making their American dream a reality. The podcast launched in April, 2014 and has done very well since. It reached the top 10 in iTunes and has been featured in Univision Chicago, WGN Radio Chicago, El Diario La Prensa of NY, and on a number of other news outlets, podcasts and blogs.
This year I made my dream of writing a book a reality. I published Logra Tu Dream: How 50 Successful Latinos & Latinas Turned Their Dreams Into Reality on July 31, 2015. In the book you'll learn how 50 of the most successful Latinos and Latinas in America turned their dreams into reality and how you can too. You'll be inspired by their stories and gain insight into the mindset, actions and habits that allowed them to overcome barriers and conquer fears, to achieve what they once thought impossible.
The book has inspired and touched many people in our community reaching #1 on Amazon in a number of categories. It is available in kindle, audio and paperback formats.
As a Mexican immigrant who came to the US in pursuit of my own American dream I know well how inspiration, mentorship and business advice from successful role models can go a long way to empower thousands of Latinos in the US and beyond  ! !
Please join me in this great journey, keep the Fire in your belly burning and Logra Tu Dream !!
Arturo Nava
Founder, Logra Tu Dream